I'm starting to get back into the electronics projects one of which is the AIS solution.
What is AIS you ask?
Non Sailor Elevator Pitch: AIS is a radio based system that large vessels use to transmit information within their local area about who they are, where they are going, how fast and how to contact them. By receiving their signal and displaying it on your charts you can avoid hitting them which is the most important but not the only way in which you can use the information. For more go to Wikipedia's article on AIS.
As a non-commercial vessel we're not required to transmit our data so at a bare minimum we will have an AIS Receiver on board. I can't see why we wouldn't have a transponder (which can also transmit), but I'm leaving that option out there.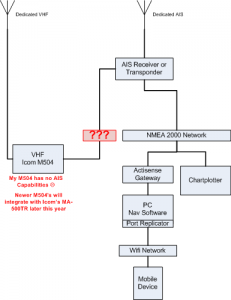 First thing to think about is how does all this fit together?
This is a logical diagram of the systems involved and how they link up.
The first thing to note is that the antennas are already in place. I have a dedicated Digital Antenna 222-VW VHF Antenna on my main masthead and a dedicated Digital Antenna 236-VW AIS Antenna on my mizzen masthead.
Secondly, I already have the NMEA 2000 network in place with both a NMEA 0183 and NMEA 2000 gateway to connect to the PC.
Integration Items for Discussion:
VHF\ The VHF may not happen. My version of the Icom m504 has no AIS capabilities. Icom tech support says there's no upgrade. I just bought the VHF in April of 2009 so unless someone at Icom can hook me up with a trade-in or an upgrade to my unit I may just skip that part.
PC Navigation\ I've not picked my RADAR yet so I've not picked my Nav Software package, but all of the major vendors call out AIS support as you can see in my PC Navigation Software Comparison spreadsheet on SkyDrive.
Chartplotter\ Again, since I've not picked out my RADAR I've also not decided on my chartplotter. What chartplotter and what connection options they have is part of a new research project and the Marine Chartplotter Feature comparison spreadsheet which I worked on tonight. Seems like all the major players support similar AIS functionality.
Just a few thoughts I guess no real answers, but I hope you find it useful just the same.