Moving the boat
Posted on Thu 12 June 2008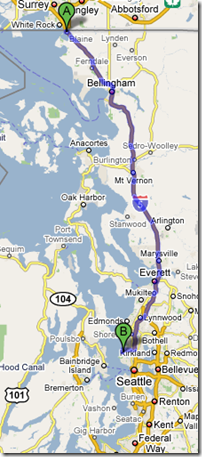 This weekend we will be moving the boat from Blaine to Shilshole Bay Marina as you can see on the map to the left we'll easily sail down I-5... wait no that won't work at all. We'll be on the blue part of the map :-)
We'll be sailing from Blaine to Port Townsend and then to Shilshole (Ballard) in Seattle. Its a big push in 2 days but we can do it or we'll take Monday off. :-)
It will be so nice to have the boat 15 minutes away as opposed to 2 hours. So many little projects to do that are just impossible with the boat so far away. We will miss the Laura at the Little Red Caboose Cafe though. If you are in Blaine you MUST go there tell her Patrick and Dawn from the sailboat sent you!
I have a bunch of photos of our new Nature's Head composting toilet I need to put up for you as well. We'll be using it on this trip if needed, but won't really have the full install done. The older head isn't really working that well and only has a small bag as opposed to a holding tank so we decided to to just move on from that technology and to go with the composting. More on that to come for sure....
Wish us luck and we'll have lots of pics I'm sure when we're done!
Categories